Bad News folks!
We all want to be princesses for the day but there are rules that apply to be one.
Did you ever notice the stylish Kate Middleton never wears nail polish? That's because colored nail polish and fake nails are not part of royal etiquette, as OK!magazine revealed.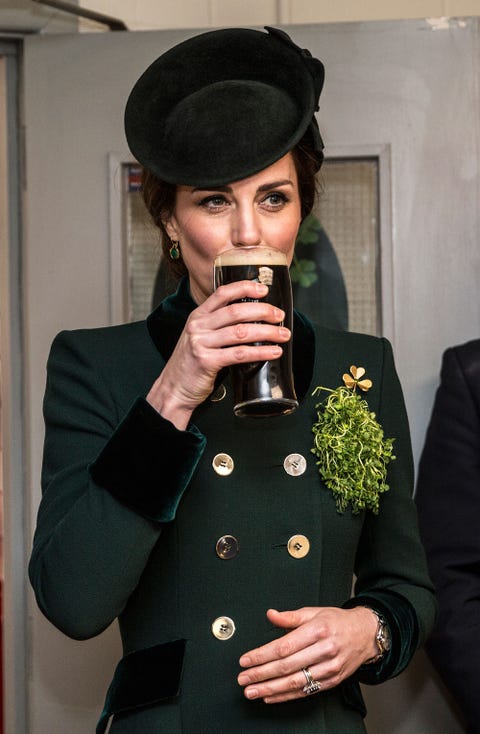 Being a princess sounds like you get a free pass to do whatever you like but sorry to burst your bubbly guys, there are actually a whole host of rules and etiquette you have to follow.
Here are 43 strict rules the Royal Family has to follow:
When the Queen stands, everyone stands – it's protocol.
When dinning as a family, once the Queen has her last bite, everyone must stop eating.
You have to bow as a man or curtsy to greet the Queen.
When you get married in the Royal family, you get a new name.
No PDA even when you travel.
Before proposing to a woman, approval is needed to be sought after in the Royal family.
The Royal wedding bouquet must contain myrtle.
All Royal weddings most include a crop of children.
Anyone from the Royal family was prohibited from marrying from the Roman Catholic church
The family can't have political views.
No one in the family can run for any political office – which makes perfect sense.
Monopoly game is forbidden to be played amongst the family.
Dinner conversations are formulated.
The Royal family is required to always pack an all black outfit when travelling to be prepared with a funeral-appropriate ensemble, in case of a sudden death.
Two heirs aren't allowed to fly together.
The family isn't allowed to sign autographs or take selfies.
They are not allowed to eat shellfish.
A Royal can't be touched.
A Royal can't wear fur.
Every event seating is very planned. There is an entire office dedicated to the seat planning called Mini Hosts.
The Royal family has to follow a strict dress code. Even the children.
Women have to wear hats to all formal events.
If an event is held indoors after 6PM, women swap their hats for tiaras but the tiaras are reserved. And they also have to be angled properly.
The Queen's breakfast is non-negotiable.
The family must accept gifts.
The family's annual Christmas celebration is held at the Queen's Sandringham Estate in Norfolk, and she arrives a week early to prepare.
Instead of opening presents on Christmas Day, the Royal Family exchanges gifts in the Red Drawing Room during tea time on Christmas Eve.
It's rumoured that the Queen hates garlic, so no dishes at Buckingham Palace are made with the ingredient and has strict rules against eating potatoes, rice, or pasta for dinner.
The family is expected to learn multiple languages.
A Clean-cut put together image is key.
After a conversation with the Queen has ended, she's the first to leave—no one is allowed to turn their back to her.
As soon as children are born into the Royal Family, they're immediately groomed to both wave and speak gracefully.
The Queen is known for her bright, neon-coloured outfits, as she likes to make sure she can be easily spotted in large crowds.
Women are expected to seat a certain way.
The Queen uses her purse to send subtle signals to her staff. If she moves the purse from her left arm to her right, it's her hint that she's ready to finish her conversation.
If the Queen is at dinner and she puts her purse on the table, dinner needs to come to an end within five minutes.
Cleavage isn't part of the Royal dress code.
Nicknames are forbidden.
Utensil placement is very important. If Royals need to exit the room during dinner, but haven't finished their food, they cross their utensils so the staff doesn't remove their plate. If they're finished with a meal, they place the utensils at an angle, with the handles at the bottom right of the plate.
Royal women need to pose with their chin parallel to the ground.
The Queen is the only person in the U.K. who may drive without a licence, or registration plates.
The Queen's dogs are always prepared gourmet meals.
The last one is probably the cutest. Since their marriage, Philip must walk a few steps behind the Queen at all times.
Interesting right?
Credit: Marie Claire US.